Libro di terra e d'incanti
A project by Simone Movio and mdi ensemble, with the participation of Beat Furrer (conductor), Livia Rado (soprano) and mdi ensemble

Libro di Terra e d'Incanti is an instrumental-vocal cycle by Simone Movio. It takes 18 poems from Andrea Bajani's "Promemoria", a collection of short poems developed from a list of simple daily tasks, written on a blackboard by the author's grandmother.
Movio identifies 3 thematic groups of elements among the lyrics, put into 3 articulated vocal pieces:
– Death: an Andante, remembering XVI / XVII century madrigalism;
– Words: a very fast and contrasting Scherzo, like a marred memory of a playful moment;
– Childhood: a long Adagio concertato, remembering the Baroque structures.
The voice is treated as a special component among the instrumental parts: the word is considered the highest possibility of existence of a sound, directly contemplating an inner world, charged by vital energy.
Programme
Simone Movio   Libro di terra e d'incanti (on poems by Andrea Bajani)
for soprano and six players
mdi ensemble
Livia Rado   soprano
Beat Furrer   condutor
The project has been premiered in Milano on December 15th 2019 (BASE Milano – Sound of Wander)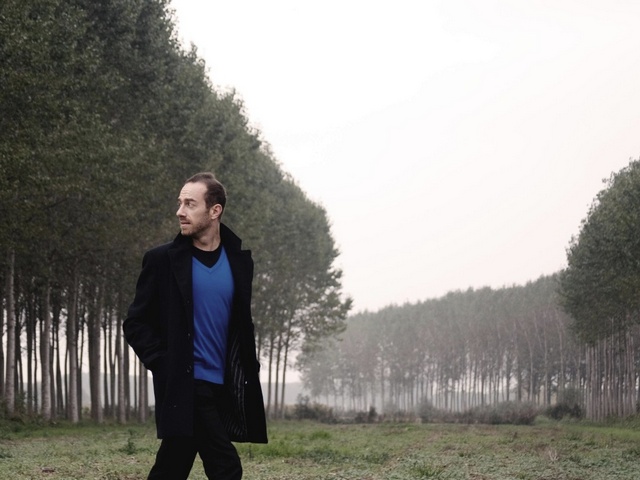 Simone Movio

Simone Movio, born in 1978, considers his meetings with Beat Furrer, with whom he studied at the Universität für Musik und Darstellende Kunst in Graz, fundamental for his experience.
Since 2007 he has received many composition prizes in Austria, Switzerland and Germany, where he received the Composer's Prize 2014 of the Ernst von Siemens Music Foundation.
His pieces have been performed by important artists and ensembles (such as Beat Furrer, Patricia Koptatchinskaja, Giovanni Antonini, Klangforum Wien, Il Giardino Armonico, Szymanowski-Quartett, MDI-Ensemble, Ensemble Recherche) in several events and places (such as Elbphilharmonie Hamburg, Berlin Konzerthaus, Musikfestival Bern, Festival d'Aix-en-Provence, Festival Présences-Radio France, Festival Milano Musica, Wiener Konzerthaus, Festival Milano Musica, Teatro La Fenice)
He held composition seminars in many academies such as Accademia Filarmonica Romana (Rome, Italy), Universität für Musik und Darstellende Kunst in Graz (Austria), the institute Creama Hanyang University of Seoul (South Korea), Conservatori Superior de Música de les Illes Balears (Palma de Mallorca, Spain), National University of Music Bucharest (Romania), Conservatorio L. Cherubini (Firenze, Italy), Conservatorio C. Pollini (Padova, Italy).
The Austrian label "col legno" released in 2014 his first portrait CD: "Tuniche".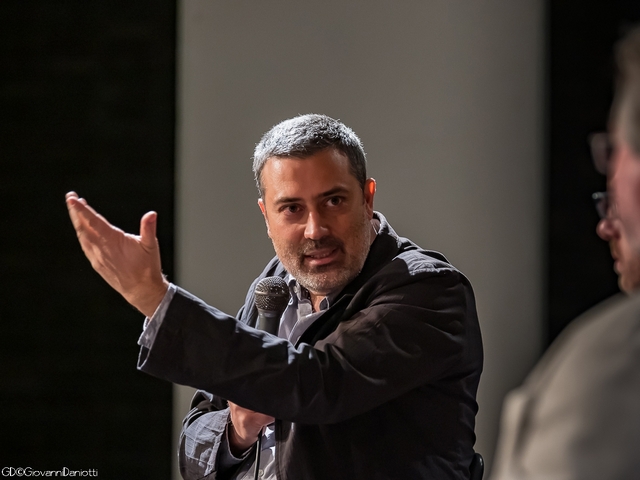 Andrea Bajani

Andrea Bajani (born August 16, 1975) is an Italian novelist, poet, and journalist. After his debut with Cordiali saluti (Einaudi, 2005), it was Se consideri le colpe (Einaudi, 2007) which brought him a great deal of attention. Antonio Tabucchi wrote about his debut novel, "I read this book with an excitement that Italian literature hasn't made me feel in ages." The book won the Super Mondello Prize, the Brancati Prize, the Recanati Prize and the Lo Straniero Prize.
After three years, with his novel Ogni promessa (Einaudi, 2010; published in English as Every Promise by MacLehose Press), he won the oldest Italian literary award, the Bagutta Prize. His collection of short stories, La vita non è in ordine alfabetico (Einaudi, 2014) won the Settembrini Prize in 2014. His most recent novel is Un bene al mondo (Einaudi 2016), and is currently being made into a film. In 2013 he published Mi riconosci, a moving homage to the famous Italian writer Antonio Tabucchi.
In 2017 Einaudi published his first book of poems, Promemoria. The second one, Dimora naturale, will be published in May 2020. He is also an author of journalistic essays and regularly contributes to the daily newspaper la Repubblica.
Bajani taught Creative Writing at the Scuola Holden in Torino, and has been Chief Editor for Italian fiction at Bollati Boringhieri publishing house since 2017. A book of literary criticism analyzing his work, written by Sara Sicuro and entitled Andrea Bajani. Una geografia del buio, was published in 2019.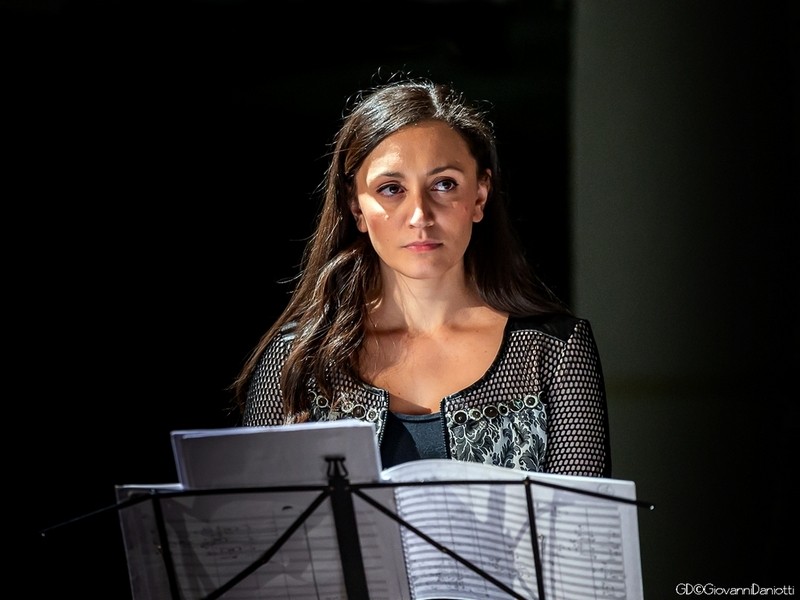 Livia Rado

Livia Rado, soprano, stands out for her activity constantly aimed at the contemporary repertoire, having performed numerous world premières of composers from all over the world as voice of the Ensemble L'arsenale. With L'arsenale and as guest of other ensembles such as Algoritmo, Prometeo, Contempoartensemble, Ex Novo, RepertorioZero, Eutopia, Ensemble U, Hyoid, Aton et Armide, she performed for important international festivals including The Venice Biennale, MiTo Settembre Music, MATA Festival (NY), Festival Suggestioni (Boston), BKA Theater (Berlin), Nuova Consonanza (Roma), Traiettorie (Parma), Maggio Musicale Fiorentino, Taschenopern Festival (Salzburg), Incontri Asolani, Play It! and music@villaromana (Firenze), Cantiere d'arte di Montepulciano, Stagione dell'Orchestra di Padova e del Veneto, Stagione Concertistica dell'Orchestra Sinfonica Siciliana, Amici della Musica di Modena, L'arsenale Nuova Musica a Treviso, Angelica (Bologna), Rassegna di Nuova Musica (Macerata), l'imaginaire (Strasburg), De Bijloke (Gent), Barge Music (NY). Her repertoire includes, among others, works by L. Nono, M. Feldman, S. Sciarrino, B. Ferneyhough, I. Fedele, B. Furrer, A. Guarnieri, T. Larcher, G. Grisey, G. Sinopoli, H. Birtwistle, C. Togni, N. Castiglioni, L. Dallapiccola, P. Hindemith, A. Schoenberg. She sang the role of Lilli in F. Perocco's Aquagranda at Teatro La Fenice, the
role of Soprano1 in L. Nono's Prometeo at Teatro Farnese for Teatro Regio in Parma, the role of Voce dietro il sipario in S. Sciarrino's Luci Mie Traditrice at the Teatro Malibran for Teatro La Fenice. Among the recent world premières: roles of Volto1 in the opera Infinita tenebra di luce by A. Guarnieri for the Maggio Musicale Fiorentino, Figlia in Lontano da qui by F. Perocco for the Experimental Theatre of Spoleto and at the Teatro Cavallerizza for Festival Aperto in Reggio Emilia, the only voice in the three roles of Minias, Nuncius and Decius in Passionis fragmenta by S. Sciarrino for the celebrations of the millennial of San Miniato in Florence. For the record label Stradivarius she recorded Pierrot Lunaire by A. Schoenberg, Prometeo by L. Nono and works by L. Dallapiccola and C. Togni, for Kairos she recorded works by M. Traversa, for Decca Efebo con Radio by S. Sciarrino.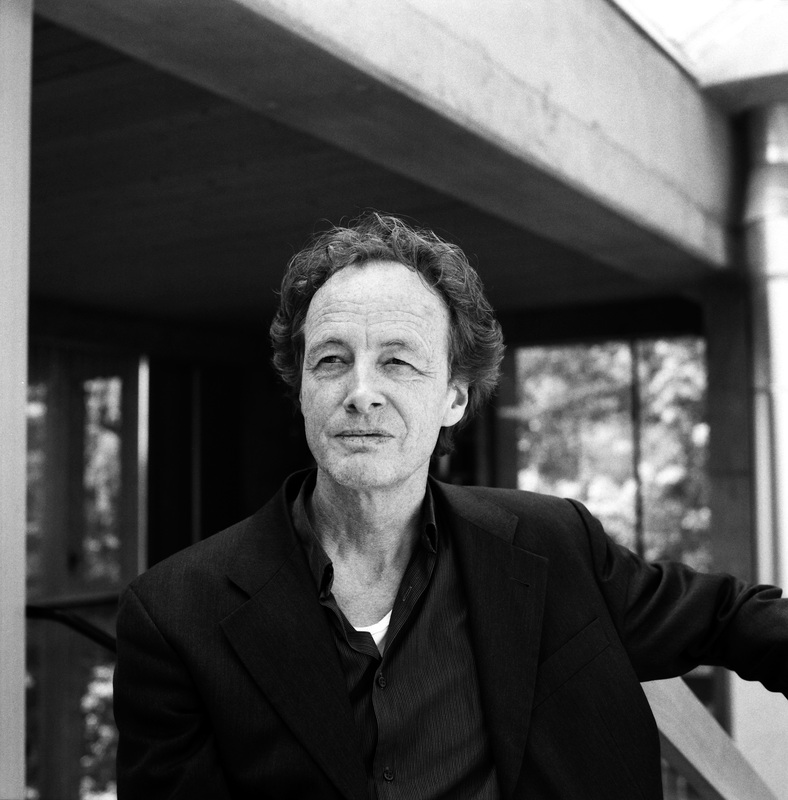 Beat Furrer

Beat Furrer was born in Schaffhausen (Switzerland) in 1954 and received his first musical training on piano at the Music School there. After moving to Vienna in 1975, he studied conducting with Otmar Suitner and composition with Roman Haubenstock Ramati at the Hochschule für Musik und Darstellende Kunst. In 1985 he founded the Klangforum Wien, which he directed until 1992, and with which he is still associated as conductor. Commissioned by the Vienna State Opera, he composed his first opera Die Blinden. His second opera Narcissus was premiered in 1994 as part of the Festival "steirischer herbst" at the Graz Opera. In 1996 he was composer-in-residence at the Lucerne Festival. His music theatre work Begehren was premiered in Graz in 2001, the opera invocation in Zürich in 2003 and the sound theatre piece FAMA in Donaueschingen in 2005. In autumn 1991 Furrer became a full professor of composition at the Hochschule für Musik und Darstellende Kunst in Graz. He has been guest professor in composition at the Hochschule für Musik und Darstellende Kunst in Frankfurt 2006–2009. Together with violinist Ernst Kovacic he founded "impuls", a International Ensemble and Composers Academy for Contemporary Music. In 2004 he was awarded the Music Prize of the City of Vienna, and in 2005 became a member of the Academy of Arts in Berlin. He was awarded the Golden Lion at the Venice Biennale in 2006 for his work FAMA. In 2010 his music theatre Wüstenbuch was premiered in Basel. In 2014 he was awarded with Great Austrian State Prize. In 2018 he received the Ernst-von-Siemens music prize in recognition of his lifetime's compositional outoput. His latest opera La Bianca Notte based on texts by Dino Campana, was premiered in Hamburg in spring 2015. In January 2019 his new opera Violetter Schnee (Violet Snow) with a libretto by Händl Klaus based on a libretto by Vladimir Sorokin premiered at the Staatsoper Unter den Linden in Berlin. Since the 1980s Beat Furrer has composed a wide range of works, from solo and ensemble music to orchestral and choral works and opera. He is well know for his nuanced exploration of the human voice and its relationship to instrumental sound.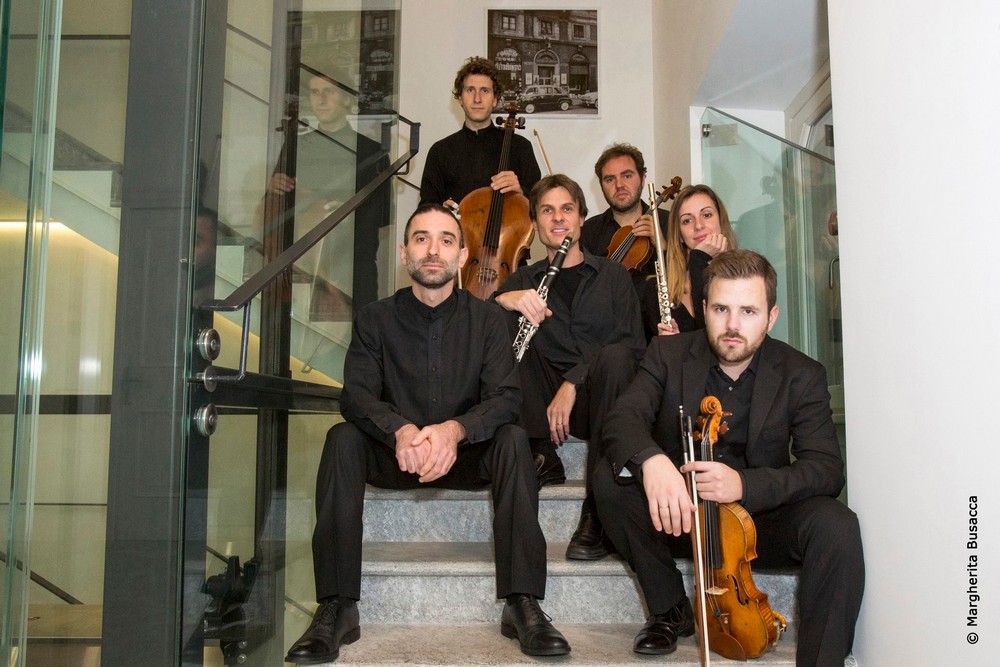 mdi ensemble

mdi ensemble was formed in Milan in 2002 from the idea of six young musicians sharing their mutual enthusiasm for contemporary music.
From the very beginning, the ensemble established close collaborations with many renewed composers such as Helmut Lachenmann, Sofia Gubaidulina, Gérard Pesson, Pierluigi Billone, as well as premiering several new works by young composers emerging from the international scene.
At the same time, the ensemble frequently collaborates with eminent conductors such as Stefan Asbury, Beat Furrer, Emilio Pomarico, Yoichi Sugiyama, Robert HP Platz, Marino Formenti and Pierre-André Valade.
mdi ensemble has been awarded with the prize "Una vita nella musica" by La Fenice Theatre, Venice, in June 2017, for "[…] pursuing with perseverance and tireless attention a very precise aim, which is working on contemporary music as a classical chamber music would do, shaping a strong identity in the sound and in the style of the performances".
From 2012, mdi is artist-in residence at the prestigious Milano Musica Festival. The ensemble also regularly appears at some of the most relevant Italian festival and venues, such as festival MiTo Settembre Musica, Società del Quartetto di Milano, Ravenna Festival, Music Biennale and Fondazione Cini in Venice, Mittelfest, Japanese Institute and American Academy in Rome, festival Traiettorie in Parma, Amici della Musica in Palermo. In 2010, mdi was invited as ensemble-in-residence by the festival Koiné at Teatro dal Verme in Milan, performing among others Schoenberg's Pierrot Lunaire in a stage version realized by Sylvano Bussotti in partnership with the Teatro alla Scala Academy.
Today, mdi ensemble is also promoter of two concert series in Milan and Florence, respectevely "Sound of Wander" and "Contrasti", that run every autumn since 2015.
Described from the Los Angeles Times as "astonishingly competent", mdi ensemble performed throughout Europe and overseas, notably at Festival Présences de Radio France in Paris, Villa Concordia in Bamberg, Tonhalle in Dusseldorf, Konzerthaus in Dortmund, Japanese and Italian Institutes in Koln, SWR Stuttgart, ORF Innsbruck, Societé de Musique Contemporaine in Lausanne, festival MusicAperta in Winterthur, Teatro Forteza in Majorca, Los Angeles County Museum of Arts and Chelsea Music Festival in New York City (as ensemble-in-residence). In 2008, the ensemble marked its debut in Japan and Tokyo.
The first mdi ensemble recording, Antiterra by Stefano Gervasoni (AEON), has been awarded by Academy Charles Cros the prestigious "Coup de Coeur – Musique contemporaine 2009". Their discography also includes monographic CDs dedicated to Sylvano Bussotti's and Marco Momi's music (Stradivarius), as well as the more recent albums Dulle Griet by Giovanni Verrando (AEON) and Electric Blueprint by Misato Mochizuki (NEOS).
Their latest release is Emanuele Casale by mdi ensemble (Stradivarius).
In 2015 mdi ensemble realized See the Sound – Hommage to Helmut Lachenmann, a documentary released in October 2017 by l'empreinte digitale which include a long interview with the composer and a video performance of some of his chamber music masterpieces.