mdi ensemble was formed in Milan in 2002 and has been artist-in residence at festival di Milano Musica from 2012 to 2017. In 2017 the group has been awarded with "Una vita per la Musica prize" and recently with "Franco Abbiati Prize".
Since the beginning, the ensemble collaborates with composers such as Helmut Lachenmann, Salvatore Sciarrino, Gérard Pesson, Marco Stroppa, Stefano Gervasoni, Sofia Gubaidulina, Unsuk Chin.
The ensemble regularly appears at some of the most relevant Italian festivals, such as MiTo Settembre Musica, Venice Biennale, Società del Quartetto di Milano, Ravenna Festival, Festival dei Due Mondi, Festival Transart. Described from the Los Angeles Times as "astonishingly competent", mdi ensemble performs throughout Europe and overseas, notably at Festival Présences de Radio France in Paris, Tonhalle in Dusseldorf, SWR Stuttgart, Festival Jeunesse in Vienna, SMC in Lausanne, Los Angeles County Museum of Arts, Chelsea Music Festival in New York City and Italian Institute in Tokyo. The ensemble also frequently collaborates with eminent conductors such as Marco Angius, Stefan Asbury, Beat Furrer, Robert HP Platz, Emilio Pomarico and Pierre-André Valade.
Since 2016, mdi ensemble has been curating two concert series in Milan (Sound of Wander) and Florence (Contrasti). mdi ensemble's discography includes monographic CDs dedicated to composers such as Stefano Gervasoni, which has been awarded by Academy Charles Cros the prestigious Coup de Coeur – Musique contemporaine 2009, Misato Mochizuki, Giovanni Verrando, Sylvano Bussotti, Marco Momi, Emanuele Casale, Mauro Lanza, Simone Movio. Their DVD See the Sound – Homage to Helmut Lachenmann was broadcasted by Rai 5 and Sky Classica.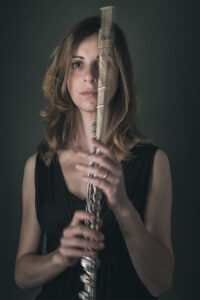 Sonia Formenti graduated in flute (10 an honours) the Conservatorio Verdi di Milano. She
afterwards she the II level master in Didactics. She won numerous auditions and obtained excellent results at several contests for orchestral position. In 2003 she became principal flute Orchestra Cherubini conducted by Riccardo Muti, with whom she performed until 2008 with artists like K.Masur, Y. Temirkanov, W.Marshall, R.Barshai, A.Lonquic at Ravenna Festival, Großer Musikvereinsaal Wien, Kollegienkirche e Haus fur Mozart di Salisburgo, Mediterranean Conference Valletta.
She regularly collaborates as principal flute with Orchestra del Teatro dell'Opera di Roma (2003-2007), Orchestra dei Pomeriggi Musicali di Milano (2003-2020), Orchestra del Teatro alla Scala, Orchestra Teatro Comunale di Bologna (2008-2012), Orchestra del Teatro Regio di Torino (2015-2018), Orchestra del Maggio musicale di Firenze (2016-2017), under the baton Bychkov, Baremboim, Conlon, Chailly, Fisch, Gergiev, Luisotti, Metha, Noseda, Steinberg. She also collaborated with Sinfonica de Galicia, Fvg Orchestra, Filarmonica di Torino, OFI, Orchestra della radio Svizzera Italiana, Filarmonica del Teatro Comunale di Bologna, La Verdi di Milano.
She performed in prestigious theaters and festivals as soloist, in duo with piano (Società dei Concerti di Milano, RSI Radio Svizzera, Solisti Aquilani, Lingotto Musica Torino) and in ensemble of woodwinds with whom he represents Italy at the Kyoto International Music
Festival and at the Italian Embassy in St. Petersburg; as soloist she performed with the Orchestra of the Brescia International Piano Festival at Teatro Verdi di Trieste, the Filarmonica di Torino, the Orchestra Filamonica italiana, the Cantelli Orchestra, The Magna Grecia Orchestra. Sonia won numerous awards in music competitions (I prize at Concorso"Ponchielli" di Cremona, I prize Concorso Tassinari "Citta di Cento", II prize at Concorso Internazionale AudiMozart di Rovereto, I premio al Concorso Internazionale di Chieri) and she received from the President of the Italian republic the prize of "Benemerita della Cultura e dell'Arte".
She recorded with the pianist Aki Kuroda for Limen tv and Sky and with the pianist Mauro Bertoli for Stradivarius.
She taught at Istituto Superiore di Studi Musicali in Nocera Terinese and from 2011 she teaches flute at Conservatory "G. Donizetti, Bergamo.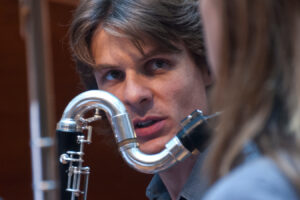 Paolo Casiraghi was born in Lecco (Italy) in 1980 and graduated in clarinet with highest honor from the Conservatory of Milan under the guidance of Sergio Delmastro furthered his studies with Hans Deinzer. He attended the Accademia del Teatro alla Scala and the High School of Saluzzo.
He graduated in composition under the guidance of Sandro Gorli and Alessandro Solbiati and he graduated in orchestral conducting training with Emilio Pomarico.
He has worked with some of the leading composers of our times such as Helmut Lachenmann, Salvatore Sciarrino, Sylvano Bussotti, Jonathan Harvey, Beta Furrer, Marco Stroppa, Stefano Gervasoni, Fabio Nieder, Francesco Filidei, Mauro Lanza and many others.
He holds concerts in important international festivals (Società del Quartetto di Milano, MITO SettembreMusica, La Biennale di Venezia, RuhrTriennale, Festival Verdi, Bologna Festival, Musik + di Innsbruck, SMC di Losanna, Festival Traettorie di Parma , Mittelfest di Cividale, Milano Musica, Ravello Festival, Tiroler Festspiele di Erl, Unione Musicale di Torino, Konzerthaus Dortmund, Lacma of Los Angeles, Festival Cervantino di Guanajuato, Forum delle Nazioni 2007 di Monterrey, Toho University of Tokyo, Festival Trieste Prima, Associazione Musicale Etnea, Rassegna Nuova Musica di Macerata …).
His registrations are published by Col Legno (winner of the Midem Classical Award), Aeon Paris (Grand prix Accademia Charles Cros 2009), Neon, Kairos, Stradivarius, Ricordi, SIdM and the Accademia Santa Cecilia in Rome.
His concerts have been recorded and broadcast by the EuroRadio circuits, RaiRadio3, SWR, RaiInternational, RadioClassica and RadioPopolare.
He currently teaches clarinet at Liceo Musicale "C.Tenca" in Milan. He actively works as conductor and as composer.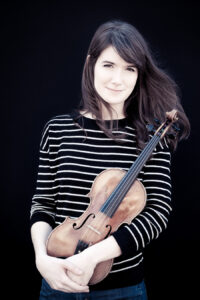 A versatile violinist with a repertoire ranging from Baroque to Avant-garde music, Corinna Canzian made her international debut on the scene performing Lutoslawski's Chain II at the KKL in Lucerne. She has collaborated with various orchestras, chamber music groups, and performed as a soloist throughout Europe, working with ensembles such as the mdi ensemble in Milan, the Ensemble Modern in Frankfurt, and Collegium Novum in Zurich. Additionally, Canzian is the co-founder of the Améi Quartett in Frankfurt.
Canzian completed her studies with Giuliano Carmignola and Sebastian Hamann at the Musikhochschule in Lucerne, and holds a Master's degree in Contemporary Music from HfMDK in Frankfurt am Main.
In addition to her concert career, Corinna Canzian is a sought-after teacher who holds masterclasses at institutions such as the Pinerolo Academy of Music, Bologna Conservatory, International Ensemble Modern Academy, Epoche-f International, New Music Week, and Virtu.Academy. She is also the co-founder and general director of the Music Academy Gli Echi della Natura in the Dolomites and the Festival Echi Urbani in Varese, both of which are part of the IdeaBoosterLab program at the ICRIOS – Bocconi Center in Milan.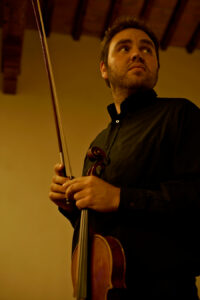 Paolo Fumagalli graduated in violin with x Elena Ponzoni at the "Cantelli" Conservatory of Novara and in viola with Roberto Tarenzi at the "Nicolini" Conservatory of Piacenza, specialazing with Maja Jokanovic, Claudio Pavolini and Simonide Braconi in Italy and in Switzerland.
From 2005 to 2008 he played first viola for the "Luigi Cherubini" Youth Orchestra conducted by Riccardo Muti. He was called to the same role by the La Fenice Orchestra of Venice, the G. Verdi Theater of Trieste and the Orchestra di Padova e del Veneto. He collaborated with other orchestras directed by L. Maazel, Y. Temirkanov, R. Barshai, K. Masur and E. Inball, participating in many world tours.
In 2013 he was the soloist in a performance of Paul Hindemith's viola concerto « der Schwanendreher" for the Mito-Settembre Musica Festival, accompanied by the Cantelli Orchestra.
Since 2002 he has been a member of the mdi ensemble, a chamber ensemble dedicated to the contemporary classical repertoire. With mdi he is a regular guest of contemporary music festivals in Italy and Europe, Japan and the United States, regularly performing works written for the ensemble. In 2017 Rai5 and Sky Classica channels programmed a movie conceived and produced by mdi together with the composer Helmut Lachenmann. With mdi ensemble he regularly holds seminars on contemporary music at Italian conservatories and universities
For over 15 years he collaborated with the most important Italian chamber ensembles focused on contemporary repertoire. From 2013 he became a permanent guest of Klangforum Wien, a reference ensemble for contemporary music at an international level, with whom he participated for the most celebrated festivals working with directors such as E. Pomarico, P. A. Valade, B. Furrer, P. Rundell, S. Young and E. Poppe.
From 2014 to 2017 he was President of the Contemporary Music Hub Milano (CMH), an association which brings together some of the most significant realities of the contemporary scene in Milan.
He has been a viola and violin teacher at the "Dedalo" school in Novara since 2011, taking care of a class made up of children from 6 years up to adulthood.
He has recorded for Stradivarius, Ricordi Oggi, Aeon, Neos, WDR, Empreinte Digitale, EMA and Kairos.
He plays a Marino Capicchioni viola (1944).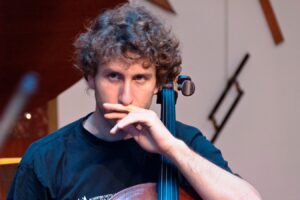 Born in Milan in 1984, he studied violoncello with Marco Bernardin at the Conservatory of Milan, graduating summa cum laude and special mention in 2002. From 2001 to 2006 he perfected his studies with Mario Brunello at the Romanini Foundation in Brescia while also attending philosophy classes at Univeristà degli Studi di Milano. Furthermore, he followed courses held by Enrico Dindo, Enrico Bronzi and Frans Helmerson, Günter Pichler from Alban Berg Quartet and Claus Christian Schuster from Altenberg Trio.He is mainly active as a chamber musician, and he is a founding member of Quartetto Lyskamm and mdi ensemble, a formation dedicated to contemporary chamber music. With Quartetto Lyskamm he was a student of Artemis Quartett, Cuarteto Casals, and of Cristophe Coin, cellist of Quatuor Mosaiques; furthermore, he obtained a master's degree in chamber music at the Musikhochschule Luebeck. The quartet won second prize at the Concours "Franz Schubert und die Musik der Moderne" of Graz and was awarded the Claudio Abbado prize from the Borletti Buitoni Trust.With mdi ensemble he regularly attends the major Italian and European festivals. He collaborated as a chamber musician as well as a soloist with composers such as Helmut Lachenmann, Fausto Romitelli, Beat Furrer, Pierluigi Billone, Simon Steen-Andersen, Mauro Lanza, Giorgio Netti, Mauricio Kagel, Gerard Pesson, Stefano Gervasoni, Dmitri Kourliandsky and Luca Francesconi. With pianist Alice Baccalini he created "Brahms a Milano", a project involving over 90 musicians in the performance of Johannes Brahms' complete chamber music; the concerts mainly took placein peripheral areas of the city, and each sponsored a different organizations dedicated to the promotion of social inclusions. He is often a guest of Radio3 RAI's live music initiatives and programs: Radio3 Suite, Lezioni di Musica, Piazza Verdi, as well as the radiophonic festivals in Matera and Cesena. In 2002 he was awarded the bronze medal for Merit to Culture and Art ; in 2009 he received the international prize from the Association Amici di Milano (Friends of Milan), under the patronage of the President of the Republic; in 2010 he obtained the Ivano Becchi Scolarship from the Foundation Banca del Monte di Lombardia. He is a ski mountaineering instructor for CAI (Italian Alpine Club), at Silvio Saglio School at SEM (Società Escursionisti MIlanesi).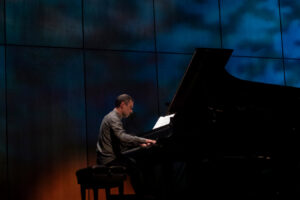 Born in Torino, Luca Ieracitano started playing the piano at the age of 7. Among his teachers: Maria Tipo, Andrea Lucchesini, Pietro De Maria, Mario Brunello, Altenberg Trio Wien, Claus-Christian Schuster, Günter Pichler, Enrico Dindo, Frans Helmerson, Dora Schwarzberg and Enrico Bronzi. He was supported by De Sono Association of Torino from 2001 to 2007.
He performed in Europe, U.S.A. and Japan, regularly appearing at some of the most relevant festivals and venues, as soloist, chamber music and orchestra. In the last 15 years Luca Ieracitano focused his research on contemporary and XX Century music and art. He premiered hundreads of new works and collaborated with some of the biggest composers of today. Since 2008 he is member of mdi ensemble of Milano.
Since 2011 Luca Ieracitano collaborates with the artists Allora & Calzadilla, performing and teaching their work "Stop, Repair, Prepare: Variations on Ode to Joy for a prepared piano"; he performed the work more than 400 times in Italy, Belgium, Germany, Spain, Ukraine and Australia.